Profile

Live every moment, love every day
Free Account
Created on 2011-12-21 03:58:48 (#1150109), last updated 2014-07-20 (165 weeks ago)
4,933 comments received, 2,505 comments posted
1,985 Journal Entries, 31 Tags, 1 Memory, 96 Icons

About

Mini Bio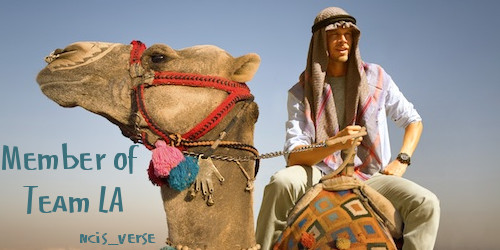 I am ... "A paradox wrapped in an oxymoron smothered in contradictions in terms."
I wear many hats ... writer, poet, fanfic junkie, workoholic, landcomm team mod, and landcomm player. If I'm not to busy to breathe, I'm not doing enough.
I'm addicted to NCIS, NCIS:LA, TBBT, Bones, Castle and Fringe.
In real life I work in medicare billing for a nationwide DME. It's not my dream job, but I do really like what I do, and at the end of the day, it's pretty rewarding. At least rewarding enough that I easily become a workaholic to meet goals, and hit deadlines.
I love the beach, the whole sand, ocean, and warm weather thing. My dream vacation would be to Ireland, and one day I'll be able to afford to go.

ncis_verse
Awards/Etc: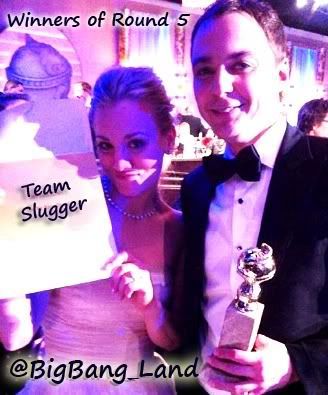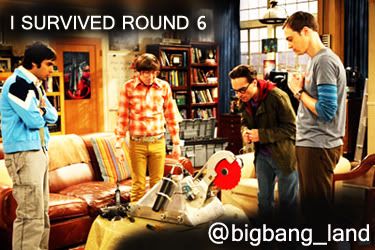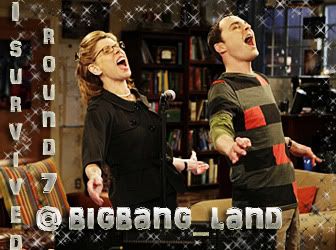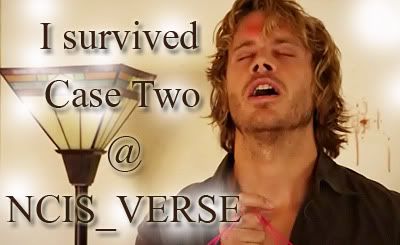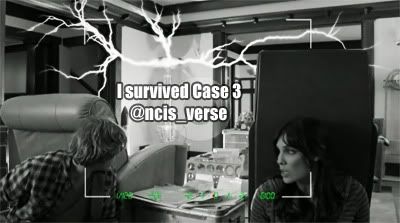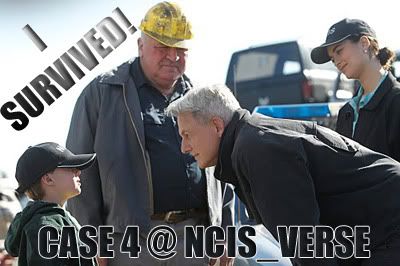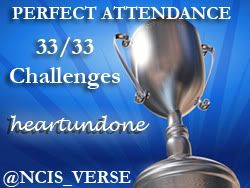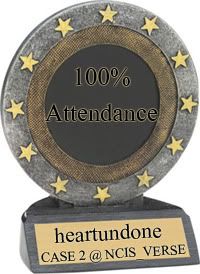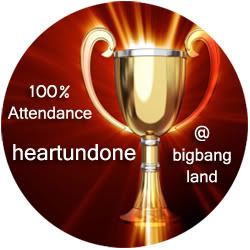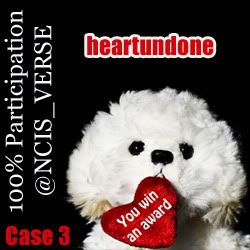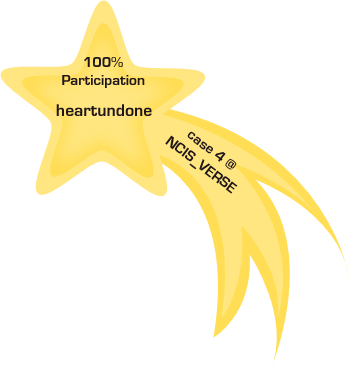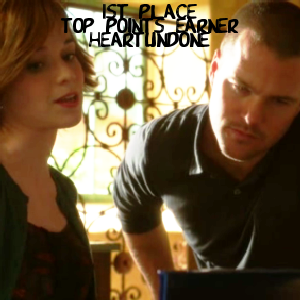 Made by

dragonheart with me in mind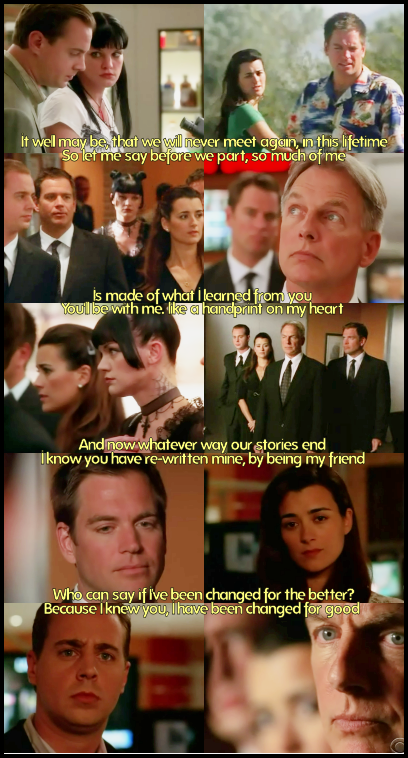 Made by

2xheroe

Anyone can achieve their fullest potential. Who we are might be predetermined, but the path we follow is always of our own choosing. We should never allow our fears or the expectations of others to set the frontiers of our destiny. Your destiny can't be changed, but it can be challenged. Every man is born as many men and dies as a single one.

McGee, 7x7 Endgame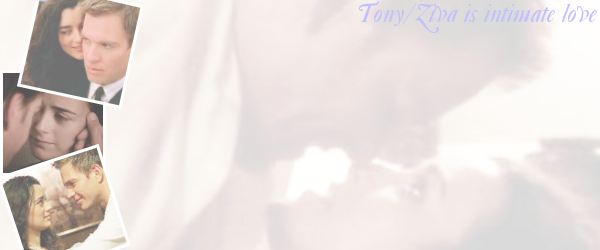 "A Gryffindor will jump off a cliff," Penelope said. Her tone suggested that it was a well-worn proverb. "A Slytherin will push someone else off. A Hufflepuff will call in five hundred other Hufflepuffs, and they'll carve a stairway. And a Ravenclaw -- " She winked at Madeleine Aerie, who joined in with her: "A Ravenclaw will get hold of a flying carpet."
~Transfigurations


It was like the moment when a bird decides not to eat from your hand, and flies, just before it flies, the moment the rivers seem to still and stop because a storm is coming, but there is no storm, as when a hundred starlings lift and bank together before they wheel and drop, very much like the moment, driving on bad ice, when it occurs to you your car could spin, just before is slowly begins to spin, like the moment just before you forgot what you were about to say, it was like that, and after that, it was still like that, only all the time.
Part of Eve's Discussion, Marie Howe


Connect
amy/rory
,
art museums
,
audio adrenaline
,
austen
,
beaches
,
books
,
c.s. lewis
, capt. jack sparrow,
care bears
,
castle
,
castle/beckett
,
celtic thunder
,
chronicles of narnia
,
clark kent
,
coffee
,
country music
,
cs lewis
,
dean winchester
,
doctor who
,
doctor/river
,
fanfiction
,
firefly
,
ireland
, irish cowboys,
j.k. rowling
,
jack sparrow
,
kensi blye
,
kensi/deeks
,
leonard hofstadter
,
literature
,
lois and clark
,
lois lane
,
long island ice tea
,
lord of the rings
,
lost
,
marty deeks
,
monkeys
,
movies
,
musicals
,
ncis: la
,
ncis: los angeles
, nell/callen,
newsboys
,
palm trees
,
pina coladas
,
pirates of the caribbean
,
poetry
,
pride and prejudice
,
ravenclaw
,
reading
,
red wine
,
river song
,
sheldon cooper
,
singing
,
star wars
,
sunsets
,
taylor swift
,
tbbt
,
the big bang theory
,
traveling
,
vodka
,
white collar
,
white zinfandel
,
writing

People
[View Entries]

Communities
[View entries]

Member Of (23):
dbs_starfish
,
fandom_icons
,
fandom_on_dw
,
genprompt_bingo
,
ncis
,
ncis_promptmeme
,
ncis_rule15
,
ncis_spoilers
,
ncis_verse
,
onedeadplotbunny
,
ouat
,
prompt_and_prod
,
sleepy_hollow
,
team_la
,
team_morgue
,
team_up_the_hot
,
the_deepbluesea
,
the_navy_yard
,
thefandomzoo
,
thepettingzoo
,
tv_talk
,
whiteinkonpaper
,
whiteinkwithart

Subscriptions (22):
bigbangindex
,
dailyprompt
,
dbs_starfish
,
dw_maintenance
,
dw_news
,
fandom_icons
,
fandom_on_dw
,
fandomsecrets
,
genprompt_bingo
,
getyourwordsout
,
inkingitout
,
ncis_rule15
,
ncis_spoilers
,
ncis_verse
,
onedeadplotbunny
,
ouat
,
sleepy_hollow
,
team_la
,
the_deepbluesea
,
the_navy_yard
,
whiteinkonpaper
,
whiteinkwithart

Administrator Of (6):

Feeds
[View Entries]

Linking
To link to this user, copy this code:
On Dreamwidth:
Elsewhere: